Meet Imran: Teaching Fellow
Namaste (नमस्ते)! My name is Imran (इमरान). I've been involved with GLN since January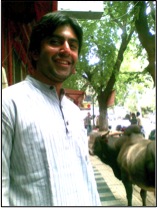 2009. I've taught 4 Hindi classes. In recent times since I've been busy with a Master's program at Georgetown, I have been reduced to a poster boy for the organization :).
I wanted to teach Hindi, as I strongly believe the best way to preserve your culture is to celebrate and share it with as many people as possible. Also, I would like to de-exoticize India a bit too, not totally… It's good to have a bit of romance. I don't believe in the concept of countries, but do very much believe in cultures and cultural diversity.  At GLN one can teach and learn in a fun and informal way (aaraam-se/आरामसे). I love languages!
I've really enjoyed the freedom and flexibility that GLN provides, and yet gives full support to all teaching ideas. I've had my students do a whole choreographed Bollywood song in class, we've watched 1/4th of a Hindi movie (that took about 2 hours), and eaten at an Indian restaurant.
I'm currently making a film on finding the DC Superhero, and one thing that most people said in their interviews was having the superpower to speak any language… I believe GLN is getting to be that superhero!