We're Hiring! Share this great opportunity
Job description
The Global Language Network (GLN) is a small not-for-profit that does a lot with a little. Our mission is to "use language as a tool to help fix our world" and we constantly strive to build a Network of Givers, for Givers, by Givers. Discover why we are rated #1 Best Language Classes in Washington, DC by Yelp!
We are looking for a passionate and driven individual who believes in the mission of the organization, would like to help GLN grow and expand, and is looking to grow both personally and professionally in the process.
The GLN Program Coordinator coordinates our main program – our language classes, which consists of coordinating our Teaching Fellowship (our teacher development program), coordinating our internship program, managing interns and volunteers, and coordinating the logistical aspect of our language classes (scheduling, coordination with teachers and partners, class registration, etc).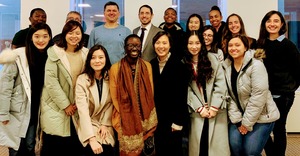 Duties and Responsibilities:
Coordinate our language program which includes overseeing class scheduling, teacher coordination, customer service, class registration, and ongoing logistics
Coordinate our Teaching Fellowship which includes helping recruit new Teaching Fellows, managing the selection and on-boarding process of Fellows and providing ongoing logistical support as necessary
Coordinate GLN's Volunteer and Internship Program which includes recruiting, training and managing GLN volunteers and interns
Serve as a point of contact for the GLN broader member base and communicate with the general public (learners, supporters, etc.)
Answer GLN office phone calls during the week and the occasional calls outside of office hours based on urgency (such as class emergencies or changes)
Maintain GLN's partnerships which includes interacting with partner organizations on a regular basis and coordinating logistics when it comes to class hosting
Provide support to and assist GLN's Executive Director and organizational leadership with daily operations as necessary
Since we rely heavily on volunteers, flexibility in schedule is a must. Some volunteers can only meet after standard work hours (ie 6pm, 7pm)–in which case hours can be shifted around to accommodate.
Note: We are a small, fast growing non-profit offering a starting salary that is open to a raise over time based on performance. We are also offering a generous 401k package with a sliding-scale employer match. Subject to availability and eligibility, we hope to offer the new employee additional benefits via a comprehensive Affordable Care Act-compliant Health Insurance plan. Free language classes throughout employment. Amazing learning, growing, and self-development experience. Amazing network of contacts.
Benefits:
Immense opportunities for personal and professional growth
Fun, diverse and creative environment
Opportunity to learn languages with GLN for free after work
Qualifications :
Very strong emotional intelligence
Excellent verbal and written communication skills
Excellent customer service skills
Excellent data entry, record keeping and other administrative skills
Office experience and customer service experience would be particularly helpful background
Very organized and timely
Positive attitude, flexible, patient, good sense of humor, professional, and eager to learn and grow with the organization
Hiring Timeline:*
There are limited interviews available, so apply now!
Interviews will be conducted in-person and via Zoom.
The position starts as soon as we finish interviews.
Training will take place in-person and via Zoom.
If you can meet this timeline we look forward to reviewing your application!
To Apply:
NOTE: Please either send an email with your resume and cover letter, with a note that you saw this post on the GLN website or via the GLN newsletter.
Please e-mail your resume and a brief cover letter to Andrew Brown at Info@TheGLN.org and please make sure the subject says GLN website-apply Program Coordinator Application. If you were referred by a GLN partner, volunteer, or member, please be sure to mention that in your email to us.
*Please be sure to include in your cover letter what relevant and qualifying experience you have in customer service, administrative work, and program coordination or program management.
Be sure to share anything relevant, particularly related to management, customer service, or communication/writing, even if it was not an office job, such as restaurant, retail, other service industries, or even blogging.
Only complete applications will be reviewed!
International Applicants:
Please be sure that your US residency or visa status allows you to have employment. At this time we will not be sponsoring work visas.
Job Type: Full-time
Starting Salary: $40,000 per year ($36,000.00 per year, plus $4,000 bonus after completing 12 full months) **
**We give raises, bonuses, and promotions to dedicated employees who demonstrate success, commitment, and performance. Past employees have started at $35,000 and, based on performance and dedication, their salaries grew to $40,000, $45,000, $52,000, and $65,000. This position will receive $3,000 per month for 11 months and after the 12th full month of work, the employee will receive $7,000, for a total of $40,000. The employee is not eligible for the $4,000 bonus if she/he has not completed 12 full months in the position.