We're Hiring! Share this great opportunity
Job description
The Global Language Network (GLN) is a small not-for-profit that does a lot with a little. Our mission is to "use language as a tool to help fix our world" and we are hiring a Program Coordinator.
We constantly strive to build a Network of Givers, for Givers, by Givers. We are rated #1 Best Language Classes in Washington, DC by Yelp.
We are looking for a passionate and driven individual who believes in the mission of the organization, would like to help GLN grow and expand, and is looking to grow both personally and professionally in the process.
The GLN Program Coordinator coordinates our main program – our language classes, which consists of coordinating our Teaching Fellowship (our teacher development program), coordinating our internship program, managing interns and volunteers, and coordinating the logistical aspect of our language classes (scheduling, coordination with teachers and partners, class registration, etc).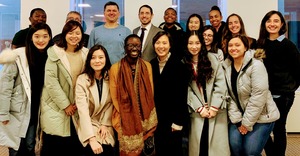 Duties and Responsibilities:
Coordinate our language program which includes overseeing class scheduling, teacher coordination, customer service, class registration, and ongoing logistics
Manage our Operations, Teacher Support, Marketing and Outreach teams. The Program Coordinator does not need to have prior experience in these fields, though prior experience or a desire to gain experience in these four areas is certainly a plus. He/she will be responsible for delegating and supervising tasks, coordinating with the various teams to make sure they are meeting team goals.
Coordinate our Teaching Fellowship which includes helping recruit new Teaching Fellows, managing the selection and on-boarding process of Fellows and providing ongoing logistical support as necessary
Coordinate GLN's Volunteer and Internship Program which includes recruiting, training and managing GLN volunteers and interns
Serve as a point of contact for the GLN broader member base and communicate with the general public (learners, supporters, etc.)
Answer GLN office phone calls during the week and the occasional calls outside of office hours based on urgency (such as class emergencies or changes)
Maintain GLN's partnerships which includes interacting with partner organizations on a regular basis and coordinating logistics when it comes to class hosting
Provide support to and assist GLN's Executive Director and organizational leadership with daily operations as necessary
Since we rely heavily on volunteers, flexibility in schedule is a must. (ie some volunteers can only meet after standard work hours).
Support for Teacher Training sessions is a must. Typically our teacher training is on Sundays and takes place approximately 10 or more times per year.
Opportunities for Growth
Gain valuable skills with various GLN workshops and training.
Learn about important areas ranging from volunteer management to nonprofit operations under the direct mentorship of our Executive Director
Gain invaluable life skills through our bi-weekly Team Talk series, a TED-style series that covers a wide range of personal and professional development topics.
In addition to the standard duties, the Program Coordinator is able to get more involved in various projects and tasks related to Operations, Teacher Support, Marketing and Outreach if he/she desires.
Some examples of projects include: for Operations: creating a team handbook to help make operations more efficient, or finding ways to get students more engaged. Teacher Support: organizing teacher training and appreciation events, or finding ways to thank and appreciate GLN teachers. Marketing: video or other projects that tell GLN's story to the public. Outreach: contacting specific organizations to recruit new teachers, students, and volunteers.
Salary:
Starting salary of $40,000 per year ($3,000 per month for 11 months and $7,000 after the 12th month, for a total of $40,000). We are eager to give raises, bonuses, & promotions to dedicated employees who demonstrate success, commitment, & performance. Past Program Coordinators have started at $35,000 and eventually made up to $40k, $45k, $52k, & $65k.
Benefits:
Paid vacation, sick leave, health insurance, and bonus and/or raise in salary based on performance. Generous 401k package with an employer match. Free language classes throughout employment.
Other Benefits:
Immense opportunities for personal and professional growth
Fun, diverse and creative environment
Amazing learning, growing, and self-development experience.
Expansive network of contacts.
Opportunity to learn languages with GLN for free after work
Our Ideal Candidate:
High emotional intelligence
Excellent verbal and written communication skills
Excellent customer service skills
Very organized and timely
Positive attitude, flexible, patient, good sense of humor, professional, and eager to learn and grow with the organization
To Apply:
E-mail your resume and a brief cover letter to Global Language Network, Attention Andrew Brown at Info@TheGLN.org -Please be sure to note that you saw our post on LinkedIn
*Please be sure to include in your brief cover letter any relevant and qualifying formal or informal experience you have in customer service, management, administrative work, and program coordination or program management.
To find out more about GLN, please visit our website: www.TheGLN.org
International Applicants:
Please indicate whether your US residency or visa status allows you to have employment or whether you need a visa sponsor.
We highly encourage you to visit us on Yelp, YouTube, GlassDoor, and social media to get to know us better.